Ecosphere Saves Local Marina from Toxic Algae Bloom using Patented OZONIX® Technology
July 19, 2016
Dear Shareholder,
We are pleased to announce that Ecosphere completed a one week operation to revitalize a local marina that was virtually shut down due to a toxic cyanobacteria "blue-green algae" bloom the size of a football field with 4" to 12" thick of toxic algae and hundreds of dead fish on the surface. Presenting not only an environmental disaster, but also a health hazard to the local community, Ecosphere deployed its equipment and personnel at its own cost to help save the local business and to demonstrate the effectiveness of its patented, high-volume, chemical-free water treatment technology.
Over the course of one week, Ecosphere worked with local and state organizations, including the Florida Department of Environmental Protection (DEP) to run its equipment for 35+ hours, eliminating approximately 500 tons of algae mass or the equivalent weight of an Airbus A380. On Friday, July 15, Ecosphere left the marina in pristine condition with the local business re-opening their doors for business, employees back to work and water/air quality conditions thriving.
BEFORE / AFTER VIDEO:
This event marks the second time that Ecosphere has demonstrated its multi-patented Ecosphere OZONIX® technology for local and state officials in Martin and St. Lucie Counties to respond to the algae crisis that continues to threaten the quality of life for many along the St. Lucie River and Indian River Lagoon.
BEFORE / AFTER PHOTOS: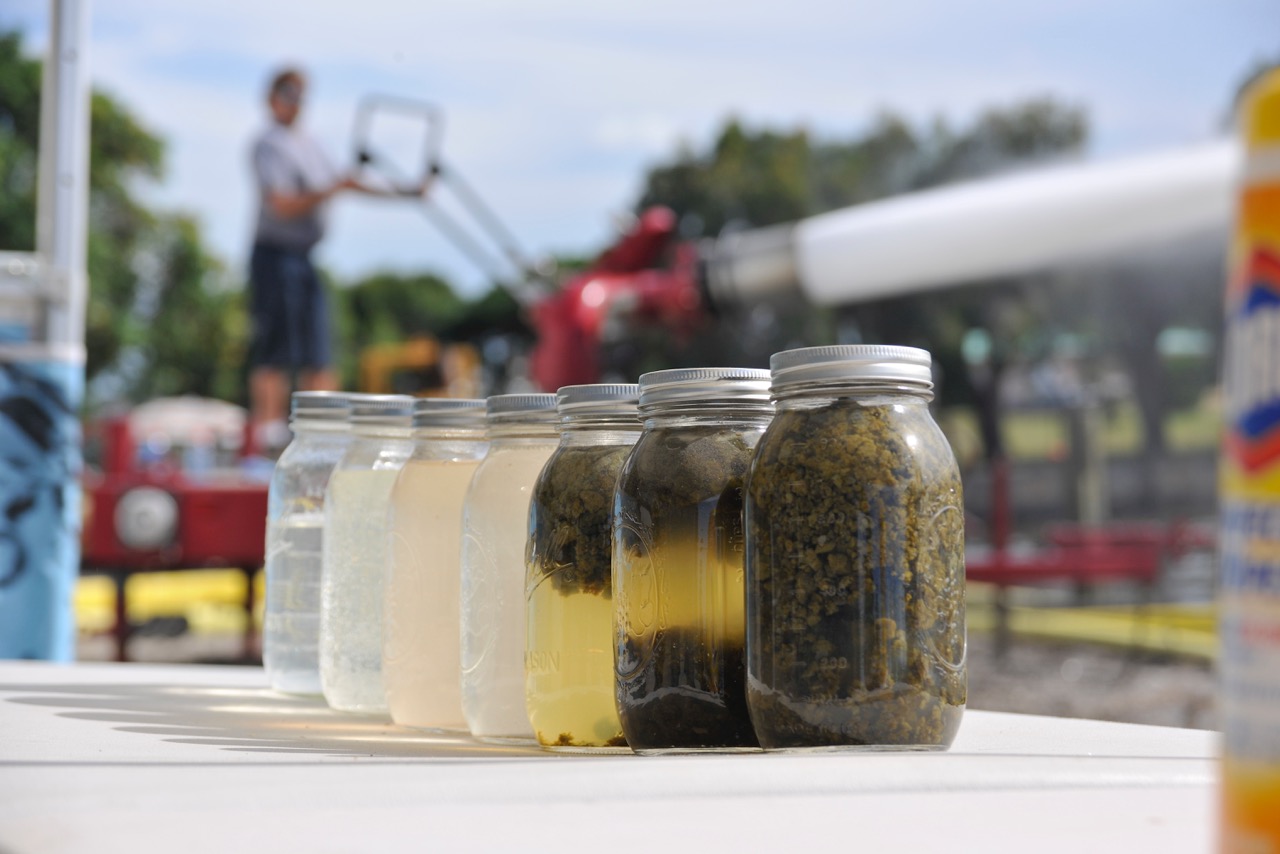 NEXT STEPS
If given the opportunity and funds become allocated, Ecosphere is ready and willing to deploy numerous OZONIX® machines to not only clean up localized algae blooms in Martin and St. Lucie Counties, but to treat Lake Okeechobee discharges at Port Mayaca, preventing algae blooms from reaching communities downstream of the Lake. In fact, the U.S. Patent and Trademark Office (USPTO) approved U.S. Patent No. 8,999,154 in 2015, which is specifically related to treating Lake Okeechobee waters and increasing the Oxygen Reduction Potential (ORP) of the C44 Canal so that algae cannot live and thrive in it.

As evidenced in National news stories, the threat of Toxic Cyanobacteria is not only a local threat, but a growing issue worldwide. Ecosphere has proven that its multi-patented OZONIX® Advanced Oxidation Process (AOP) Technology can provide immediate relief to communities effected by Toxic Cyanobacteria "Blue-Green Algae" and has equipment ready to deploy.